This audio cd is one of the best gifts I have received. My sister gave me the New Testament as a gift. When my daughter gets into my car she puts in cd. Then, one day I was looking for my cds and I couldn't find them. Later, I realized my husband had taken them out of town on his business trip to keep him company while driving. Now, both the Old and New Testaments are available. Click the link below to listen to a sample.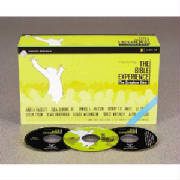 Inspired by...The Bible Experience Complete Audio Bible on CD
By Zondervan

Inspired byThe Bible Experiencee is an inspiring audio Bible that features an unprecedented cast of nearly 400 of today's distinguished Hollywood actors, actresses, and musicians. It also features movie-quality sound effects and background music. This fully dramatized version of the TNIV New Testament was developed by entertainment veterans, and is a ground-breaking undertaking. The phenomenal quality draws you into Scripture and makes the Bible come alive in a new way you have never experienced before. 2007 Audies Audiobook of the Year Award Winner!